Prospect Cellars Musings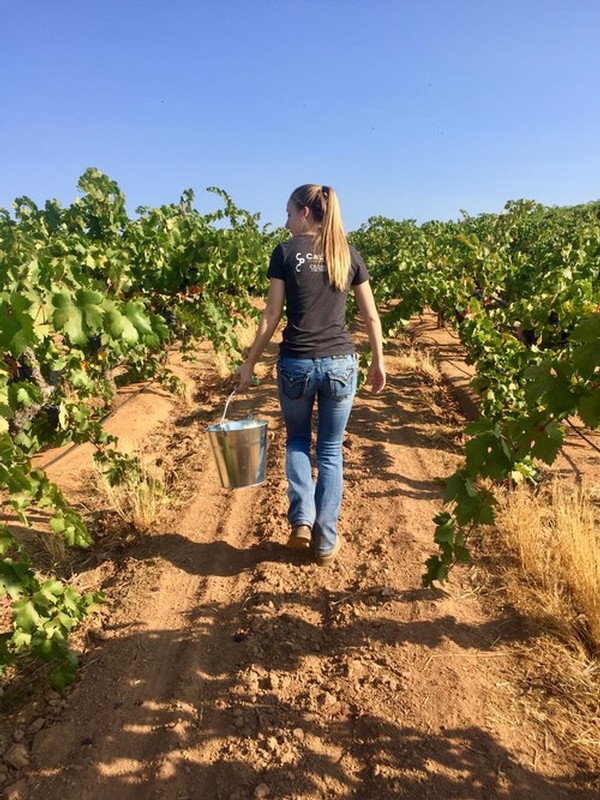 Raising our glass to strong mothers
The famed Original Grandpère Vineyard actually started with a grand-mère, specifically my husband's great-great grand-mère (French for grandmother) Mahala Teter Upton. With the help of her 8-year-old son, Rueben, Mahala planted the Original Grandpère Vineyard in 1869 after the sudden death of her husband John. Mahala and her 11 children waded through Prohibition by selling the grapes to Midwest home winemakers and finally sold the vineyard itself in 1930 to the Steiner family. The property remains under matriarchal domain today with Teri Harvey running the grounds as head harvester. Though the vineyard is no longer in our family, it will always have roots in our history and our winery.
Here we are six generations later, as the women—mother's and now my own daughter— continue to plow the way for our family. On this Mother's Day, I survey our tasting room on Main with pride and think about my own daughter, Bailey, who will graduate in June from Cal Poly (pictured above); she's the first women in our family to get a college degree in agriculture.
Today we raise our glasses to family, community, America, county fairs, farmers, baseball, cowboys, coaches, veterans, tradition, Friday night lights, the grace of God, a good day's work, Amador County sunsets, volunteers, 4H and the FFA, riverbanks, rain, good dance partners, dreamers, risk takers, PROSPECTORS, but most of all MOTHERS!
Let's not only raise our glasses, but let's also brunch with our amazing mother, because who doesn't love a good reason to brunch? Below is the perfect sweet and savory menu paired with our fabulous Prospect Cellars wine. Enjoy!

Frittata with Estero Gold Cheese, Sausage and Asparagus
paired with Prospect Cellars' Quick Silver Sauvignon Blanc

Ingredients:
5 eggs
2 sausages
1/2 onion
6-8 spears of asparagus
*1/4 cup of Estero Gold Cheese (or any extra sharp, aged cheddar of your choosing)
Salt to taste
Pepper to taste
Dash of garlic powder
Directions: Sweat onions in olive oil and garlic powder in a large fry pan. Break up asparagus and add to the cooking onions. Let the veggies cook on medium heat for a couple minutes as you beat the eggs and add the salt and pepper to your eggs. Add your precooked sausage to the veggies then add in your eggs. Let the bottom firm up for a few minutes on medium heat then grate cheese on top. Turn oven to broil and broil your frittata on high for four minutes or until the egg on top has cooked and the cheese has melted. Wah-la!
*Estero Gold, made by the Valley Ford Cheese Company, is sold at Prospect Cellars.
**A great addition is broiled brown sugar grapefruit, which also pairs nicely with our Quick Silver Sauvignon Blanc. Sprinkle a tablespoon of brown sugar on half of a grapefruit and broil on high for a couple of minutes, or until the sugar has crisped up like crème brûlée.