August 14, 2018 | Jamie Lubenko
We Put the 'Farm' in Farm-to-Table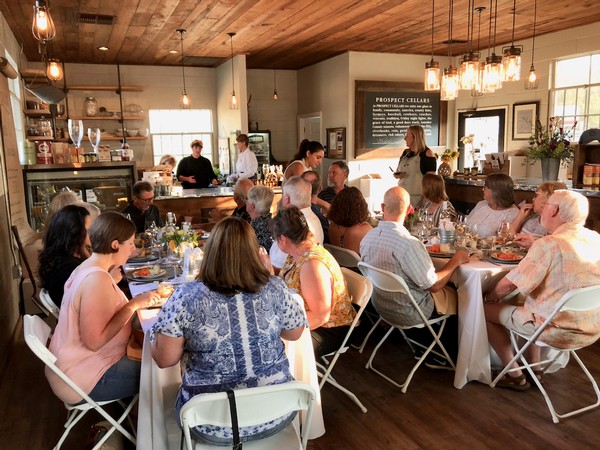 I joked at the dinner that half the fun of having Chef Carolyn Kumpe of Vendage and Company cook for us is watching the controlled chaos (i.e. lighting things on fire). But, I am happy to report there were no open flames at our first Farmers Market Dinner of the season. Instead, as usual, Carolyn spoiled us with her delectable farm-to-table fixings. My Prospect Cellars crew and I welcomed 24 guests for our first Farmers Market Dinner of the season last Thursday. Normally, we would brave the heat and take a jaunt down to the farmers market ourselves, but with the smoke and extreme heat, we decided to move indoors and enjoy the ambiance of our historical tasting room (once the old post office).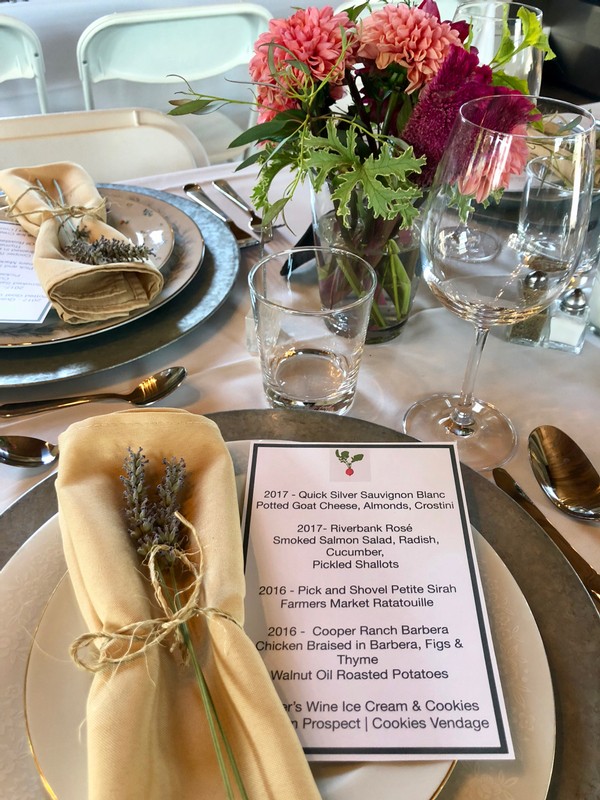 Carolyn started the evening with a homemade Potted Goat Cheese, Crostini and Almonds paired with Carrot Slaw and our Quick Silver Sauvignon Blanc for the first course.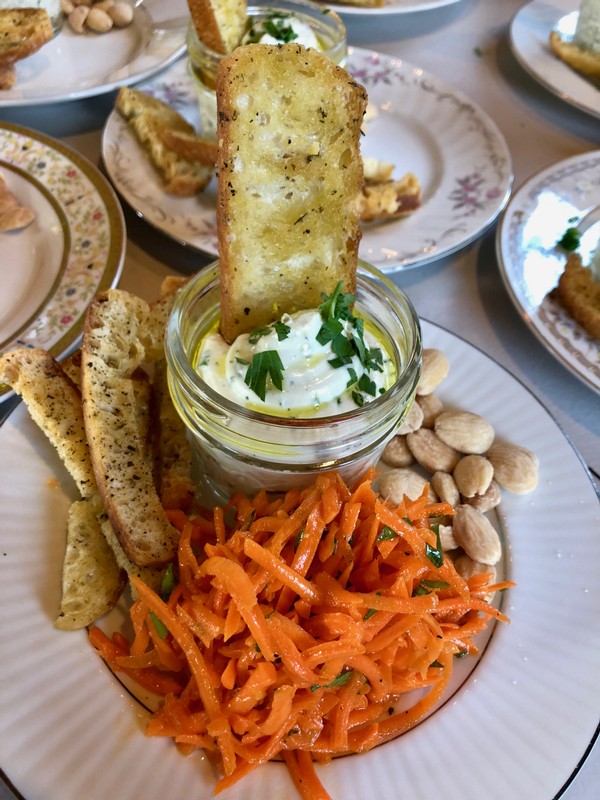 We moved on to Mixed Greens with Beet-Cured Salmon (beets are good for liver health, you know!) Rarely have I seen that many bright, natural colors all on one plate; plus, it paired perfectly with our crisp Riverbank Rosé.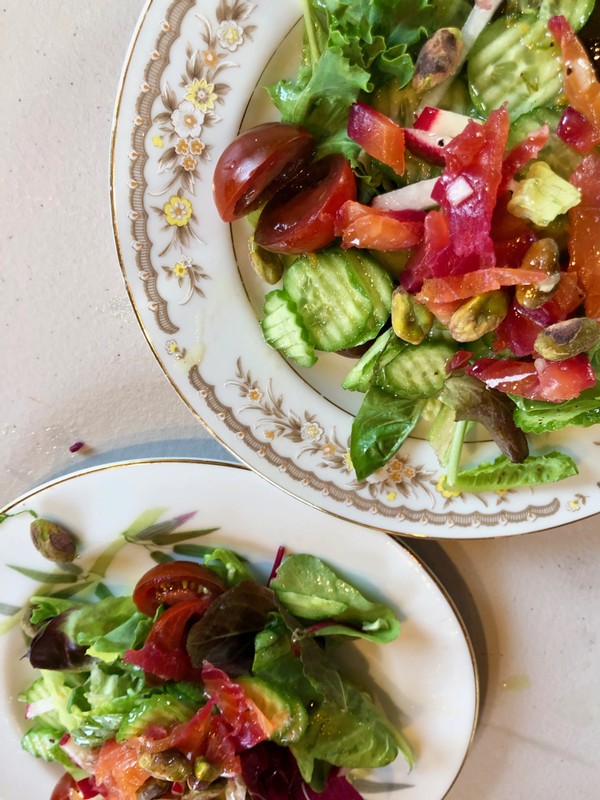 Next up, we enjoyed a surprise dish of socca, which is a Provencal-style crepe made with chickpea flour; Carolyn topped it with ratatouille (recipe below) made with fresh vegetables from the farmers market taking place a block away. We paired this French delight with our colorful and cutting Pick & Shovel Petite Sirah.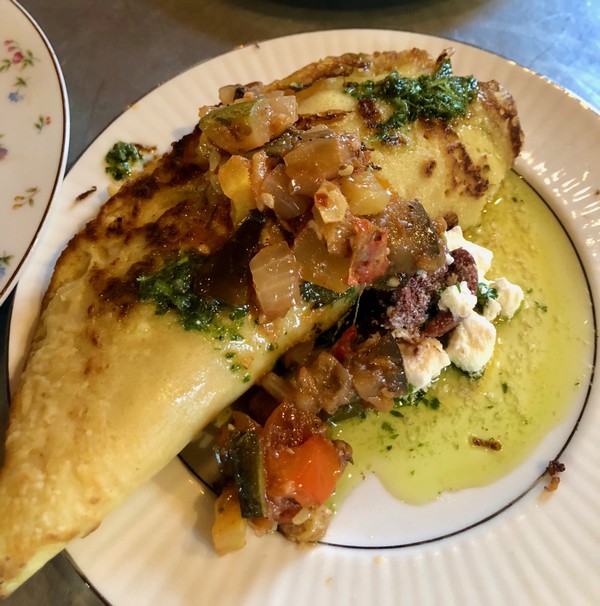 Finally, we arrived at the main dish: Chicken Braised in Barbera with Fig and Thyme, which was paired with our Cooper Ranch Barbera, an obvious choice.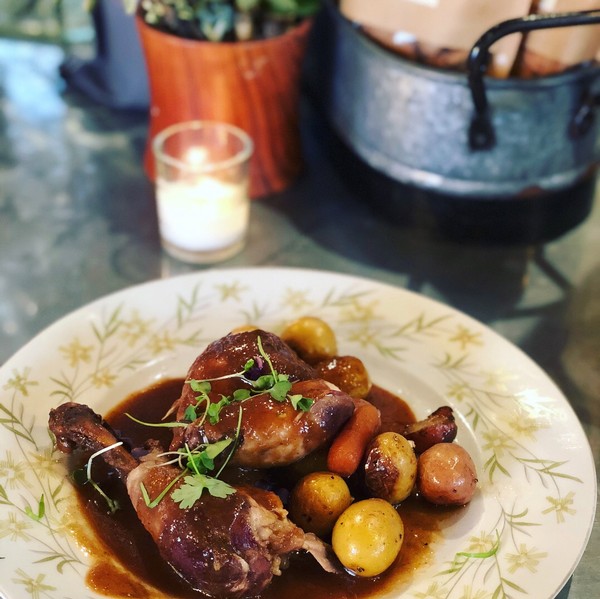 We finished the evening with a sweet treat—our Prospect Cellars wine-infused ice cream made by Gunther's in Sacramento and Carolyn's scrumptious shortbread cookies.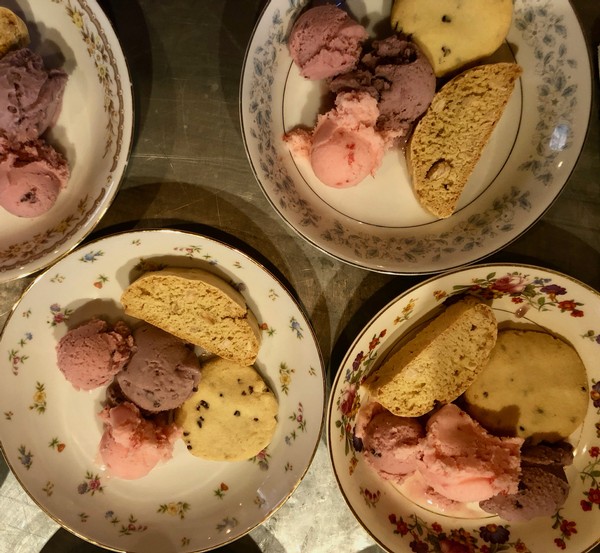 Farmers Market Ratatouille Recipe
Recipe courtesy Jennifer Segal of Once Upon a Chef
Servings: 8 (Makes about 7 cups)
Prep Time: 30 Minutes
Cook Time: 45 Minutes
Total Time: 1 Hour 15 Minutes

Ingredients
1 large (1.25 lb) eggplant, cut into 1/3-inch cubes
Salt
6 tablespoons extra virgin olive oil, plus more for serving
2 medium zucchini (about 1 lb), cut into 1/3-inch cubes
1 medium yellow onion, finely chopped
1 red, orange or yellow bell pepper, cut into 1/4-inch dice
5 large cloves garlic, chopped
5 large vine-ripened tomatoes (1.75 lb), cut into 1/3-inch cubes, with their juices
1 tablespoon tomato paste
2 teaspoons fresh chopped thyme, plus more for serving
3/4 teaspoon sugar
1/4 teaspoon crushed red pepper flakes (optional)
3 tablespoons chopped fresh basil
Heat 3 tablespoons of oil in a large nonstick pan over medium heat. Add the eggplant and season with 1/4 teaspoon salt. Cook, stirring frequently, until soft and starting to brown, 10 to 12 minutes. Transfer to a plate and set aside.
Add another tablespoon of oil to the pan (no need to clean it). Add the zucchini and cook, stirring frequently, until tender-crisp, 3 to 4 minutes. Season with 1/4 teaspoon salt and transfer to a plate; set aside.
Add two more tablespoons of oil to the pan and add the onion and bell pepper. Cook, stirring frequently, for about 5 minutes. Add the garlic and continue cooking for about 3 minutes more. Do not brown. Add the tomatoes and their juices, tomato paste, thyme, sugar, crushed red pepper flakes (if using) and 3/4 teaspoon salt. Cook, stirring occasionally, until the tomatoes are broken down into a sauce, 8 to 10 minutes. Add the cooked eggplant to the pan; bring to a gentle boil, then reduce the heat to low, and simmer, uncovered, for about 10 minutes or until the eggplant is soft. Add the zucchini and cook for 1 to 2 minutes more, or until just warmed through. Taste and adjust seasoning, if necessary. Sprinkle with fresh basil and thyme, drizzle with a little olive oil if desired, and serve warm or chilled. Leftovers can be stored in the refrigerator in an airtight container for up to 5 days or frozen for up to 3 months (although keep in mind that the zucchini won't stay crisp after being frozen).
Comments
Commenting has been turned off.