July 24, 2018 | Jamie Lubenko
Corn Dogs & Barbera: The Perfect Fair Pairings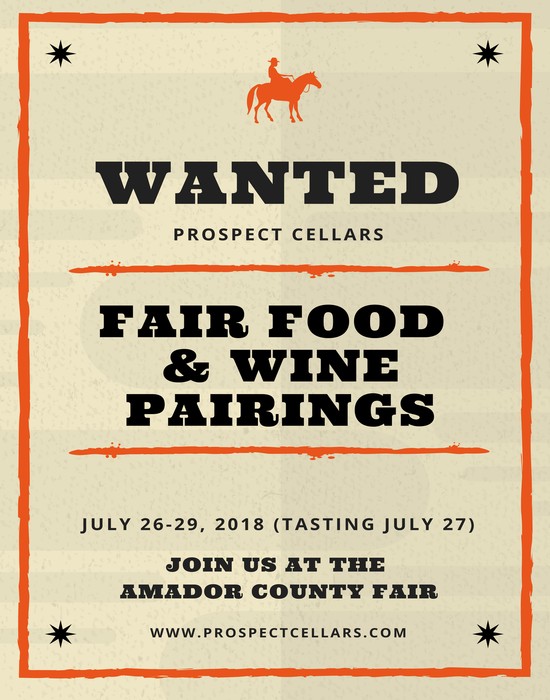 Corn Dogs & Barbera: The Perfect Fair Pairings
"Win, Place, or Show, off to the fair we go!"
This year we celebrate 80 years of the Amador County Fair. It goes without saying that we at Prospect Cellars are highly involved in the fair festivities. Aside from having a display window and a son in the rodeo circuit, we will also be pouring our wines at the fair. With that said, we thought it would be helpful to put together a comprehensive wine and fair food pairing menu for your deep-fried, yet refined, taste buds.
Cooper Ranch Barbera + Corn Dog
I know what you're thinking: Beer and corn dogs. Well my friend, you're wrong. It's all about Barbera and corn dogs. That's where it's at. The acidity of this Italian varietal and Amador County sweetheart cuts right through that thick corny crust and adds a layer of sophistication to an otherwise lowly mash of meat parts—our pal, the hot dog.
Fool's Gold Orange Muscat + Funnel Cake
Life is sweet with this perfect fair pairing. Forget chocolate and port. Enter Muscat and funnel cake. The hint of orange in our Fool's Gold Muscat adds character and bright fruit to the powdery goodness that is our deep-fried friend, the funnel cake.
Gold Digger + Chicken Strips
If you are a woman who grew up in the country like me, chances are your husband's favorite food of all time is actually quite simple: Gas station chicken strips. Well, these are next level gas station chicken strips—these are county fair chicken strips! Paired with our Gold Digger Red Blend, this is the ultimate workin' man's meal. From rodeo circuit rider to grape grower, this pairing will please all. Ladies, don't be shy; the duo is an all-around crowd pleaser.
Paydirt Zinfandel + Steak Sandwich
You've got to have a wine with guts and grit to belly up to a steak sandwich. Our Paydirt Zin has both of those things, plus a dash of black pepper on the palate, and who doesn't like a nice, peppery steak? For something more tannic, try our Pick & Shovel Petite Sirah, which can stand up to any protein profile, but has a gift for muscling against many a marbled red meat.
Quick Silver Sauvignon Blanc + Candy Apple
Our Sauvignon Blanc can take on any Granny Smith, but the acidity stops that thick layer of caramel dead in its tracks. This is the perfect combination of sweet and tart that will quench your thirst on those hot fair days, but also satisfy your county fair sweet tooth.

Join us and 40 other Amador County wineries from 7 to 9 p.m. on July 27 for a fair wine tasting. Visit the Amador County Fair website to purchase tickets.
Comments
Commenting has been turned off.