July 2, 2018 | Jamie Lubenko
Red, White and Blend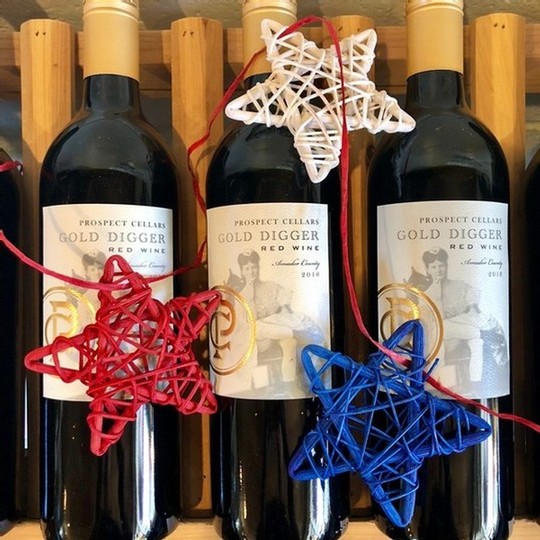 Red, White and Blend
"There ain't nothing more American than Mama's apple pie."
—Before She Does, Eric Church
When you make a pie, you combine different varietals of apples that showcase complimentary characteristics. You might mix a Granny Smith with a Golden Delicious to balance out your pie and provide the perfect marriage of sweet and tart.
It's the same with a wine blend. Blending breeds balance (How's that for alliteration? Oh, there's more.)
I joked with our winemaker Moises "Mo" Acevedo that if he would just apply himself, he could make some excellent apple pies. But, we'll let him stick to doing what he does best—making mouth-watering wines. Sticking with what we know and do well is something we pride ourselves in at Prospect Cellars; it's precisely the reason we don't make a Cabernet Sauvignon or a Pinot Noir. Neither of the varietals fare well in the Amador County heat, and we know it.
"Napa has the best Cabs in the world. It's no competition," Mo says. Most people across the country would agree.
Instead, we feature varietals such as Barbera, Amador County's darling, and Zinfandel, the grape that pays the bills and provides a sturdy foundation for the rest of the varietals to stand on.
Our sole blend, the Gold Digger Blend is a beautifully balanced bouquet (see, I told you there was more alliteration) of 35 percent Barbera, 30 percent Zinfandel, 15 percent Sangiovese and the rest Petite Sirah. Mo's tasting notes describe it as "multi layered with all sorts of the goodies you'd expect from each of the varietals involved," goodies ranging from blue fruit to leather. This "broad-shouldered" beast of a blend pairs well with almost any hearty dish. Think pot roast or meatloaf, but since it's summer, a prime T-bone on the barbie will do just fine.
I have come to realize that most of a winemaker's talent comes out in their blends, and that's easy to see, or taste rather, with our Gold Digger's Blend. Blends are the fun part—for us to drink and Mo to make! Blends are where Mo feels like he can shine the most.
"This is my pie," Mo said.
So, we hope you will enjoy a bit of our liquid "pie" this 4th of July, but most of all, we hope you will take the time to appreciate our freedoms as Americans. And, let's just be thankful the Brits were taxing us on tea instead of wine—or we might still have funny accents and take afternoon tea and biscuits.
Comments
Commenting has been turned off.