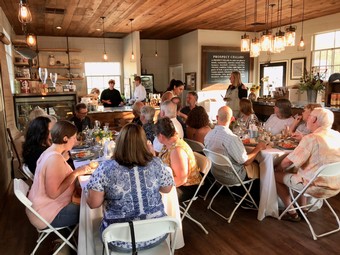 Prospect Friends With Benefits Membership (FWB)
For just forty bucks a year, we can have the kind of relationship that is fun for both of us, and doesn't end in you getting piles of wine you don't want. Nice and casual.
What kind of benefits are we talking about?
25% off purchases of wine - because nothing says "I dig you, but not in an obsessive way" like paying less for stuff.
Free Birthday Grub - We LOVE Birthdays, mainly because it's the best excuse to party ever invented. Just come in to the tasting room any time during your birthday month for a birthday treat on us.
Free Ground Shipping on all wine purchases the entire month of November - Holidays are stressful, and it's generally your relationships and relations that cause your stress. Not FWB - we make that time of year more magical, with free shipping.
Invitations to exclusive FWB events. We really aren't a velvet ropes kind of operation, but if we had velvet ropes, they would part for you at our exclusive events and parties. Expect more along the lines of BBQ's, filed trips and our Farmers Market Dinners (pictured above).
Pre-Release Bennys on each vintage. You get dibs on everything we release. So you can brag to your neighbors about the fact that you have wines they can't get yet. You can be sure to get the good stuff before it sells out. But you're not committed to buying anything. Because that's not the kind of relationship we are looking for.