Our Wildbunch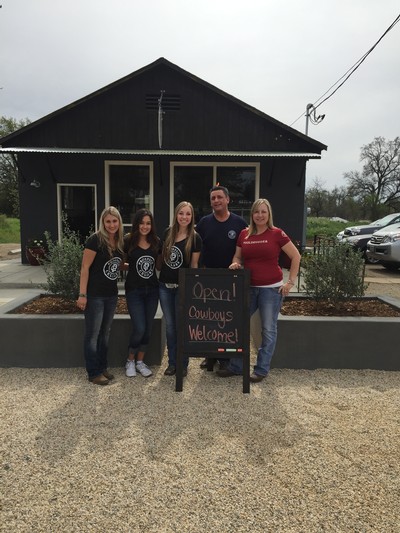 In 1863, Ronn's great-great grandparents, John Dale and Mahala Upton, arrived in what would become the Shenandoah Valley of California. Four years later in 1867, John Dale passed away just months after Mahala had given birth to their 11th child. (Can you imagine?). In an effort to support her family and with the help of her 8-year-old son Rueben (8 year olds ALWAYS want to help), Mahala planted the first zinfandel vines in what is now the oldest documented vineyard in the state of California. Although the famed Original Grandpere Vineyard is no longer in our family, for the six generations since, members of our family have continued to tend vineyards, some even crafted wines which they sold to prospectors and boarding houses as merchants operating along Dry Creek. Other members of our family while not "farmers" worked as the community's pharmacist, blacksmith, mayor, cowboys, and even the "egg lady".
We pay homage to our ancestors, to their toil, their spunk, their pioneer spirit, their work ethic and their humble nature. Not by building a palatial estate on our family's land, but by opening the family's first "legitimate" winery and tasting room in the funky former Post Office of our hometown.
Today, our "Wildbunch" of only three children (a much more practical choice than 11!) is spreading wide and far. We are so proud to send Bailey the "Ballerina" off to Cal Poly to study viticulture, continuing the family traditions for yet another generation. Not far behind her, Jonathan will attend Cal Poly as well to study forestry in the fall of 2015. His love for our Sierra Nevada Region drives his plans for the future. Michael (aka "Little Legs") the youngest, inherited all of our family Cowboy genes, and aspires to one day be up before the dawn to brand his own cattle as opposed to the cattle of others. To be honest we hope that this new venture affords us the ability to support them all chase their dreams.
As for us, Ronn and Jamie Lubenko, proprietors of this fine establishment....For the past decade, Ronn has operated his own underground construction company while Jamie served as the executive director of Amador County's Winery Association. In 2012 Ronn bought Jamie four tons of Zinfandel in what can only be charecterized as a rain sale (sort of like a fire sale but when rain is coming). With this fruit and the hard work and support of so many family and friends we find ourself here. There are no words for how grateful we are for our blessings. Stop by - we would love to share with you our wines and our stories.