Prospect Cellars Musings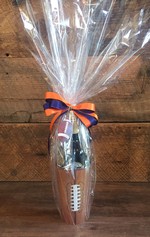 As far as I can tell, there is only one problem with Superbowl parties.....a LACK of wine. When did this become a national holiday for beer drinkers? Why label all of your friends on this particular day as just "beer drinkers"? It's a bunch of crap. Plenty of wines pair with chili, jalapeno poppers, pork sliders, excitement and commercialism. You should break the mold! Don't allow society and football fans to dub you as a Plain Jane beer drinker (my apologies to beer drinkers and Jane's if they find that last comment offensive). You can show them! Stop by Prospect Cellars this Sunday and we will wrap up your "Party" wine in your team colors! It's festive and will likely draw less ridicule from the burly guys in the room. If it is absolutely necessary you can even drink your wine in a red solo cup. Yes, I said it YOU can even drink your wine in a Red Solo cup. Will it compromise the quality of your wine a bit? Sure, but it will not turn your wine into a wimpy light beer so you are still ahead of the game.
Here's a few wine and football food pairings to help you make a game plan!
Big ol' Beefy Chili & Barbera
The natural acidity in Barberas from Amador County (well all Barberas to be honest) is a fantastic pairing for beef Chili. It's a fat/acid love thing. Don't ask me to explain. 2012 Prospect Cellars "Cooper Ranch" Barbera - $24
Pizza and Sangiovese
Duh! 2012 Prospect Cellars "Dance Hall" Sangiovese
Almost everything else with Sparkling Wine
TBH one of my very first AHA! wine and food pairing moments was a glass of Champagne and Lays potato chips. NOT even kidding. Bubbles can pretty much handle the smorgasbord of party food like nothing else. (Note to self....make sparkling wine).
If all else fails join us at Prospet Cellars for the Big Game. Yes, we will have it playing on the big screen and of course we will offer up some fantastic football food and wine pairings!
Go team!